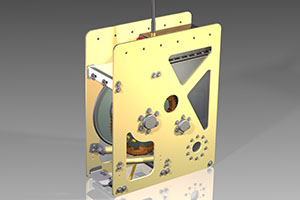 Short summary:
For a seismic customer we have developed a special winch where weight, corrosion resistance, long lifespan and reliability were critical demands.

The project started with spesifications, engineering, development of a prototype, testing and optimalizing before serial production.
Our solution consists of a DC-motor driving both an internal and external gear solution to achieve the correct gear-ratio. Furthermore, it has been used corrosion resistant materials such as AISI 316, Super-Duplex, aluminium-bronze, POM and epoxy-laminated glassfiber in the construction.

The whole construction is design with the help of Autodesk Inventor and FEM/FEA analyses have been run in ANSYS DesignSpace.